Tire Service in Pensacola, FL

Get Your Next Tire Change in Pensacola
Cadillac Pensacola has been happy to serve the Florida community for many years. As a customer at our dealership, we're dedicated to making sure you stay safe on the road as much as possible. Part of ensuring your safety is keeping your Cadillac tires maintained and in good shape.
The tires on a vehicle are the first and only contact with the road while driving. So, it's crucial to pick the appropriate set if replacement is needed. The good news is we have a great Cadillac tire shop filled with experts to help you get back on the road in a timely manner.
You can even check out our service & parts specials for possible savings on your next visit! Additionally, feel free to read along for an overview of all things tires.
How to Properly Protect and Maintain Your Cadillac Tires
To help keep your tires maintained, wheel alignment and balance is important. The alignment should be considered if there's unusual tire wear, or perhaps the vehicle is significantly pulling from side to side. Also, if you discover a vibration driving on a flat road, your tires may need to be rebalanced.
Tire pressure is important as well, and should be monitored daily. If your Tire Pressure Monitor (TPM) light comes on, then it's time to check and adjust all tire air pressures to the recommended levels. If your TPM light isn't working properly, one of our Certified Service Technicians will gladly look at it to make sure everything is good to go.
Also, a tire rotation will help your tires maneuver even more efficiently. So whenever you go initially to get your tires rotated at our Ford tire center, make sure you speak with a technician about the correct tire-rotation pattern for your tires. By doing this, the longevity of your tires will increase significantly.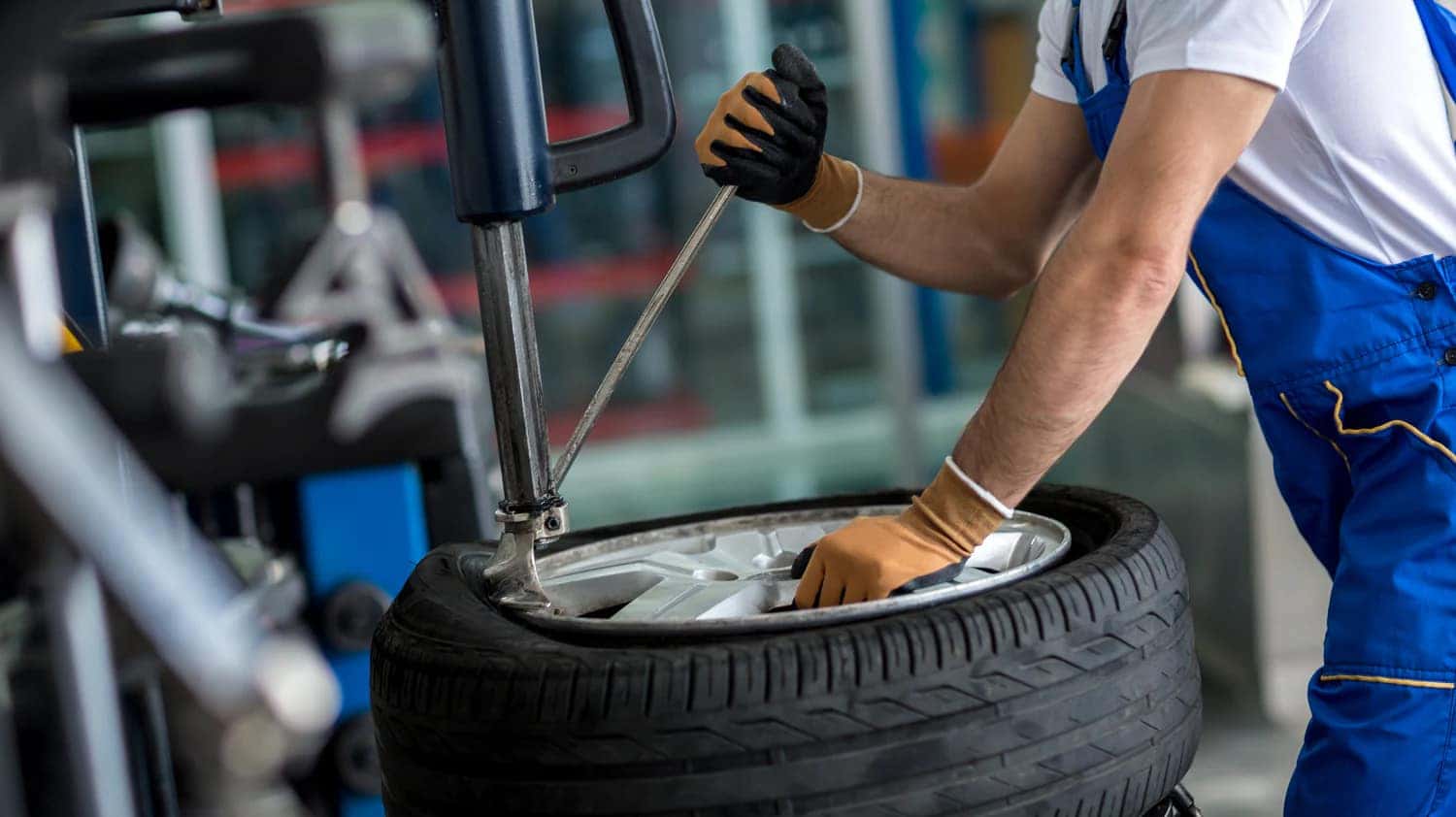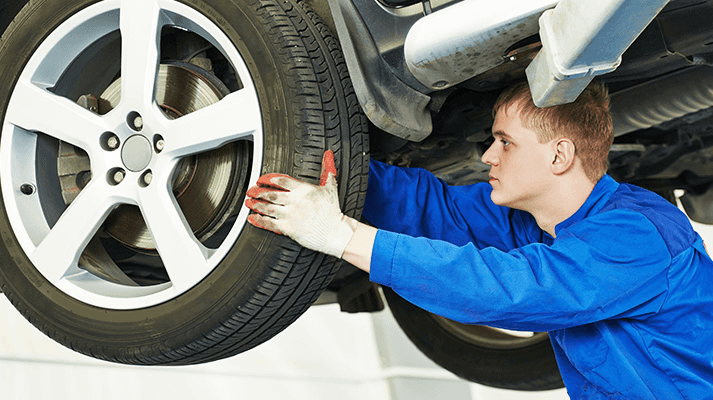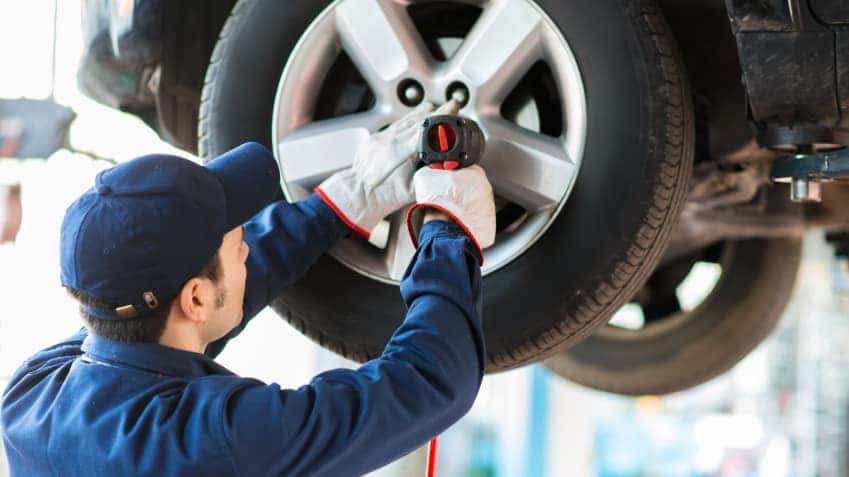 Tire Wear and When You Need to Change Your Tires
Throughout time, the rubber that makes up your tires inevitably age, requiring you to replace them. You'll also know it's time to change your tires when they have around 1.5 mm or less of tread remaining, because tread wear indicators begin to surface. This not only goes for the tires attached to your vehicle, but your spare tire as well, if available.
Many factors such as loading conditions, inflation pressure maintenance, and temperature dictate how quickly tires age. Some other signs of tire replacement include:
The tire tread is snagged, cracked, or cut deep enough to show fabric
Three or more tread wear indicators can be seen
You can see a split or bulge in the tire
There's a cut, puncture, or other damage that can't be repaired efficiently
If your tires need to be tended to, come stop by our service center. Our expert service technicians will gladly help you from start to finish. And to save some extra time, you can always schedule your service appointment online and get the same expert attention in the process!
Tire Repair Near Mobile
Whenever it's time to service your tires on your new or used Cadillac car, truck, or SUV, you are more than welcome to contact our dealership. Our tire shop in Pensacola stays open Monday through Saturday, and is located at 5651 Pensacola Blvd, Pensacola, FL 32505.
Surely, you'll understand why we have so many wonderful customer reviews. We look forward to assisting you!
Cadillac Pensacola Tire FAQ
Where Can I Put Air in My Tires?
Most gas stations and auto service stores have an air pump you can use to fill your tire with air. At Cadillac Pensacola, we would be more than happy to help you with your Cadillac tire maintenance and repairs. Contact us today with any questions!
How Long Can You Drive on Low Tire Pressure?
Do not drive farther than 40 miles or longer than 30 minutes with low tire pressure. Slightly low tire pressure is usually safe to drive a few more miles on, so you can get to an air pump or service station. However, if your tire pressure is extremely low, continued driving could lead to tire failure or a blowout, which can be incredibly dangerous.
When to Replace Tires?
To meet U.S. legal safety standards, a tire's tread should be at least 2/32″ deep. You can check a tire for wear by placing a penny upside down in between the tire tread; if the top of Lincon's head is visible, the threads are worn down and need to be replaced. For optimal performance and safety, tires should be free of sidewall damage and irregular wear. If you need a tire change near Pensacola, head over to our tire finder tool to secure new tires for your vehicle today!
How Often Should You Rotate Your Tires?
Typically, you should rotate your tires every 5,000 – 7,500 miles or every six months, whichever comes first. Our Cadillac Service Center recommends you check your owner's manual for information on your specific vehicle's tires. Schedule your tire rotation today!